Tributes
776 Β.C.
Updated: 28-02-2018 09:27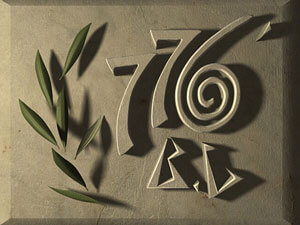 Date: Friday, 16th of March 2018
Venue: Trianon
Hour: 9:30
---
776 B.C., 10' (15 episodes of 40'')
Greece 2002
Direction / Script: Babis Venetopoulos, Yannis Vogiatzopoulos
Animation: Babis Venetopoulos, Yannis Vogiatzopoulos
Technique: 3D computer animation
Music: Kostas Mouratidis, Christos Manolas
Producer: Thodoris Akritidis
Production: Hellenic Broadcasting Corp. ERT S.A.
The first Olympic Games... presenting fifteen popular events in a humorous way with original versions as to how the first Olympiad began in 776 B.C. The collection has been selected and screend in many festivals:
- Animamundi 2002, Brazil
- California Sun 2002, USA
- Hiroshima Animation Festival 2005, Japan
- 32nd International Cinema Festival Ciné-Jeune 2014, France.
These fifteen short movies have been included in the DVD collection "Greek Animation 1944 - 2007", a production by the European Animation Center and the Hellenic Audiovisual Institute. 
---
Gallery:
---
Back
Javascript must be enabled to continue!