Press Release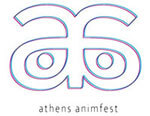 13th ATHENS ANIMFEST 2018 is under the auspices of the Greek National Tourism Organization.
13th ATHENS ANIMFEST, the oldest greek animation festival, welcomes more than 350 short anima-tion films from Greece and other 51 countries, establishing Athens as a point of reference for animators.
Participants compete for the Grand Prize "Athena" and other distinctions that are accompanied by the digital "Kotinos", the olive branch, a symbol of moral reward for the winners' effort.
Cinema lovers of all ages have the opportunity to watch films that combine a variety of technical, aes-thetic and conceptual quests, covering a wide range of their interests.
― Guest of Honor: Rony Oren, Israel.
― Tributes for Poland and the other Visegrad countries.
― Exhibition of the Engraving and Animation Laboratory of the School of Fine Arts (Professor: Michalis Arfaras)
― Screenings for students and for children of immigrants and refugees.
― Angy Elfcraft's four unique crafted pendants. 
This year festival (summary):
01. Movies: 418, total running time 50 hours. (Short: 227, Student: 68, Greek: 14, Experimental: 20).
02. Participant Countries: 52
03. Venues: 12
- Romantso, (3-5 Anaxagora, Omonoia, t.: 216 7003325)
- Cine Club of Vrillisia "Cine Drasi", (M. Theodorakis Park, Plataion & Ymittou str., Vrilissia, t.: 697 4371054)
- Cine Danaos, (109 Kifisias Avenue, t.: 210 6922655
- Athens School of Fine Arts, (256 Pireos str., Aghios Ioannis Rentis)
- National and Kapodistrian University of Athens / Department of Education in Preschool Age
- AKTO, (11 Evelpidon, Athens, t.: 210 5230130)
- DEREE - The American College of Greece, (6 Gravias Stρ., Aghia Paraskevi Athens, t: 210 6009800)
- Cultural Center "Melina Merkouri", (66 Irakleidon & Thessalonikis, Thisio, t.: 210 3452150)
- Trianon, (21 Kodriktonos str. & 100 Patission str., Metro Victoria, t. 210 8215469
- Theatre Paramythias, (27 Paramythias str. & Plataion, Kerameikos, Metro Kerameikos, τ.: 210 3457904)
- Network for the Children's Rights, (11b Alkamenous str., Larissa Station, t.: 210 8846590)
In collaboration with:
― Cine Club of Vrillisia "Cine Drasi
― Athens School of Fine Arts
― National and Kapodistrian University of Athens / Department of Education in Preschool Age
― AKTO
― DEREE - The American College of Greece
― Organization for Culture, Athletic and Youth / Municipality of Athens
― Theatre Paramythias
― Network for the Children's Rights
---
Javascript must be enabled to continue!