Tributes
THEOX by George Nikopoulos (Special Screening)
Updated: 14-03-2018 16:59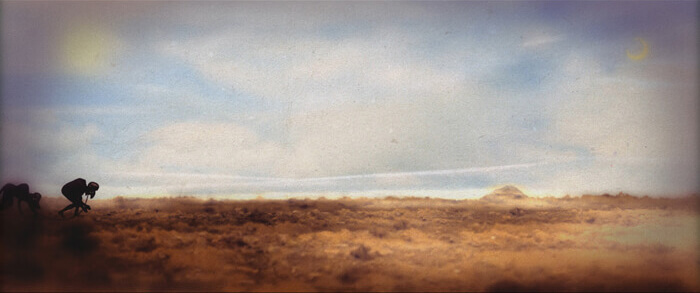 Date: Saturday, 17th of March 2018
Venue: ROMANTSO
Hour: 20:00
Admission Free
---
THEOX, 67'
Greece 2017
Direction, Screenplay, Choreography, Animation: George Nikopoulos
Music: Dimitra Trypani
Masks: Nikos Kokkalis
Camera: Grigoris Panopoulos
Post Production: Studio artcut
Sound & Music Recording / Sound Design & Mixing: George Gargalas
Mixing & Mastering: Christos Megas
Performers: Dimitris Politis (Old man), Natali Mandila (Ox), Nansy Manatou (Girl), Isidora Zolota (Old woman),
Natassa Karalia (Angell), Spyros Skordos (Controller)
Musicians: Ria Georgiadou (Flutes), Dinos Manos (Contrabass), Dimitra Trypani (Percussion)
Vocals: Sofia Ketentjan, Kiki Kerzeli, Sofia Bardoutsou, Evgenia Pavlidou, Dimitra Trypani, Antonis Parharidis,
Konstantinos Heirdaris
Guest Musician: Sofia Alifieraki (Flute)
Script / Assistante Producer: Morfo Galopoulou
Assistant Mask Constructor: Stefanos Kypriotis
Translation: Nandia Grigoriadou
Set Photographer: Yannis Dimitras, Viky Grintzou
Green Screen: Yannis Peiralis
Chef Electrician: Antonis Hondrogiannis
Assistant Electrician: Nikos Krassopoulos
Set Lighting: Grigoris Panopoulos, Antonis Hondrogiannis
Catering: Hayati Tavern, Brown Bear
Producers: George Nikopoulos - baubo Productions
Co-Production: artcut
With support by Garage Performing Arts Center
With support by O.S.C.S.
With support by Ionian University - Department of Audio and Visual Arts / InArts - Laboratory of Interactive Arts - In.Arts
In a chronic situation of obedience from a subjected people, the inveterate habit and the acceptance of the condition in which they are in has an impact both on the subjected person and the one in power. Their relationship lacks the element of revitalization and change. Then, when the possibility of change arises by chance, the overturn of the situation seems to be closer than ever.
See more: http://bauboproductions.com/
THEOX Trailer from Giorgos Nikopoulos on Vimeo.
---
Back
Javascript must be enabled to continue!