Awards
Schirkoa
Short
Special Mention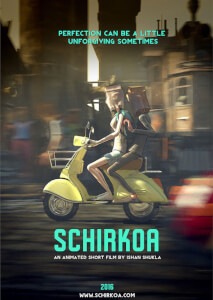 Schirkoa 13:31
India 2016
Directed by: Ishan Shukla
Screenplay: Ishan Shukla
Production/School: Sharad Varma
Dialogue language: English
In the city of Bag-heads, a senate member faces a tough choice between political career, brothels and love for a mysterious woman. A choice that will transform his life and the city in unimaginable ways.
---
Director CV
Ishan is an Indian artist working in the animation medium for past 8 years. After dropping out of college to pursue animation, he worked as a CG artist and Art Director in an animation studio in Singapore. He spearheaded projects ranging from TV commercials to TV series. Ishan then took a sabbatical to work on his personal projects including a short film - Schirkoa. He is now working as a CG Lead at an animation studio in India. His animation shorts and artworks have won several awards and have been featured on various online portals.
Schirkoa - Trailer from Ishan Shukla on Vimeo.
---
Gallery:
---
Back
Javascript must be enabled to continue!