Awards
The Rains of Castamere
Greek
Special Mention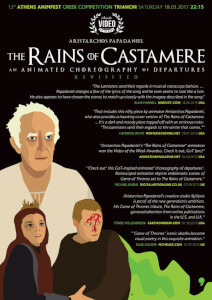 The Rains of Castamere | An Animated Choreography of Departures (Revisited) 03:09
Greece 2016
Directed by: Aristarchos Papadaniel
Inspired by Game of Thrones,the director-animator Aristarchos Papadaniel created a short animated film, which acts as an "animated choreography of departures" based on the series' song The Rains of Castamere. The film has been made with the technique of rotoscope animation. Emblematic scenes of the series have been chosen, allowing for a new cinematic approach combined with the specific song.
Special Mention 
---
Aristarchos Papadaniel
Aristarchos Papadaniel studied Tourism Business Administration, Graphic Design and Animation.
Author of the book "Greek Political Caricature - The Serious Side to a Funny Art" and creator of the Greek flipbook series "Pocket Cinema". In 2005 he co-founded the creative studio/production company Syllipsis Ltd., where he produces visual communication through animation, illustration and graphic design. A number of his illustrations have been published by magazines, exhibited on galleries and broadcasted on various TV series and shows (e.g. "The X Factor"). Co-creator (direction-animation) of the awarded educational animated TV series "A Letter - A Story" which is produced by the Educational RadioTelevision of the Greek Ministry of Education. Co-editor of the book "70 Years of Greek Animation" published by ASIFA Hellas in collaboration with Greekanimation.com funded by the Stavros Niarchos Foundation. Based on the TV series a digital interactive learning environment is being developed (Medea Awards 2012, highly commended). Founding member of ASIFA Hellas and full member of Greek Graphic Designers' Association.
The Rains of Castamere | An Animated Choreography of Departures from SYLLIPSIS Ltd. on Vimeo.
---
Gallery:
---
Back
Javascript must be enabled to continue!