Awards
Bullet Time
Short
Distinction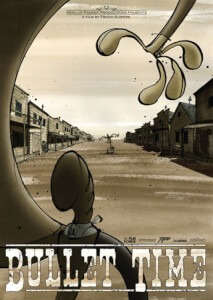 Bullet Time 06:00
Netherlands 2016
Directed by: Frodo Kuipers
Screenplay: Merlijn Passier, Frodo Kuipers, Rudi Brekelmans
Animation: Frodo Kuipers, Elian van der Heiden, Peter Schop
Technique: 2D, 3D
Music: Alex Debicki
Production/School: Merlijn Passier Productions
Dialogue language: No dialogues
Subtitles language: No subtitles
A desolate street in a small village in the Old West. Two cowboys face each other in a good-old-fashioned shootout! But when both of the colts fire their deadly bullets, those bullets immediately fall in love with each other, forgetting what they're supposed to do! This has dramatic consequences...
---
Director CV
Frodo Kuipers (1976) studied animation at the ABV Tilburg (NL) and at KASK HogeschoolGhent (Belgium). In 2001 he graduated with great honours with his short 'Antipoden'. This film won awards at several film festivals and was nominated for the selection of the Cartoon d'Or by Anima Brussels (B) in 2002. Frodo was an artist in residence at the NIAf (Netherlands Institute for Animation film) for almost 3 years, where he took part in numerous masterclasses and workshops by professionals like Michael Dudok de Wit, Paul Driessen, Normand Roger, Mark Baker, Daan Jippes, Piet Kroon, Konstantin Bronzit, Amanda Forbes and Wendy Tilby. He finished two films at the NIAf: 'Street' and 'Shipwrecked', which both were successful at international film festivals worldwide. 'Shipwrecked' was also noticed by ACME's Ron Diamond and became a part of ACME's Animation Show of Shows in 2006. In 2005 Frodo founded Studio Mosquito was founded, where he focused mainly on directing independent animation shorts, but he also animated a broad collection of commissioned work, including a few scenes for Paul Driessens 'Oedipus' (il Luster Productions/ NFB-ONF). In 2016 Frodo finished his latest short film 'Bullet Time' (Merlijn Passier productions). Frodo mainly works as a traditional 2D hand drawn animator. In his films he creates his own characteristic animation logic, with a focus on character. He is hugely interested by the way his characters manage in these imaginary worlds. Humour is taking an important place in his work, but there's definitely room for meaning. Beside his animation work, Frodo teaches animation and directing at both the Willem de Kooning Academy in Rotterdam (NL), and the Arts Academy St. Joost in 's-Hertogenbosch (NL). Filmography: Ballone di Cannone (2015, animated short) Fata Morgana (2011, animated short) Awards: Third Prize Audience Award (Anima Mundi 2012) - Anima Mundi On The Road Award (Anima Mundi 2012) - Best Animation (Novara Filmfestival 2012) Lost in Space (2010, animated short) Bricks (2010, animated short) Awards: Golden Apple (audience award), 51st Zlìn Film Festival Street (2005, animated short) Awards: Third prize Fest. Int. del Cinema d'Arte Bergamo '07 Shipwrecked (2005, animated short) Awards: Best Shortfilm European Youthfilmfestival Antwerp '05 - Moviesquad Junior Audience Award HAFF Utrecht '06 - Audience Award Festival CineJunior Paris '07 Antipoden (2001, animated short) Awards: ACE-prize for Best Flemish Studentshort Filmfest Gent (Belgium 2001) - Audience Award Filmfestival LeuvenKort (Belgium 2001) - Grand Prix de la Communaute Flamande Anima Brussels (Belgium 2002) - Canal+ Award Anima Brussels (Belgium 2002) - VRT Award Anima Brussels (Belgium 2002).
Bullet Time - teaser from Frodo Kuipers on Vimeo.
---
Gallery:
---
Back
Javascript must be enabled to continue!