Καλλιτέχνες
ΧΡΗΣΤΟΥ ΔΗΜΗΤΡΗΣ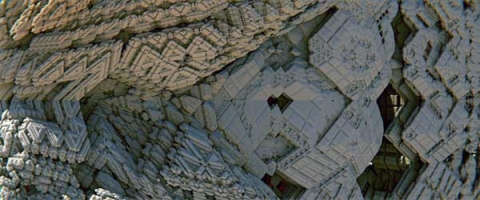 MAD MATH
Duration: 61 minutes
Format: Video File – MP4 (H.264)
Aspect: 2.40 (1920x800p)
Languages: None
Year of Production: 2014
Produced in: Athens, Greece
"A fractal is a natural phenomenon or a mathematical set that exhibits a repeating pattern that displays at every scale. Fractal patterns with various degrees of self-similarity have been rendered or studied in images, structures and sounds and found in nature, technology, art and law."
From Wikipedia, the free encyclopedia
Mad Math is a fractal feature film taking us on a ride through the alien landscapes made out of math formulas.
Bio – Filmography
Dimtris Christou is an active CG and animation artist for the last 15 years.
2005: Whispers – Drama Int. Film Festival, Greece (Short-Video)
2008: RV293 – Platforma Festival, Greece – Waterford Int. Film Festival, Ireland (Short-Animation)
CREDITS
Music used is CC-BY (Creative Commons with Attribution)
Mystro – Mystro Sound Instrumental Duncan beattie – Sevenhundredbeats Sackjo22 – Lamadio Tiado Robwalkerpoet – Kinda Green Romancito – Blue Bottle
OldDog – Love Song
Cdk – Ethereal Space
Stab – Common Hopes Karstenholymoly – Undercover DeMeridien – Number 5
DjBlue – Martini Madness
Mana Junkie – Reflections in the Rain Onlymeith – Dance of Light Pixies Gmz – Parametaphoriquement
Cdk – Like Music
Titles – Zeos – Photo Theme Last Voyage
Συμμετέχει σε
---
---
Επιστροφή