Tributes
SPECIAL SCREENINGS
Updated: 31-03-2016 12:04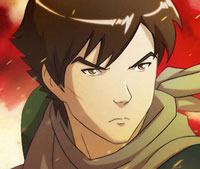 Tuesday 12, April 2016, Hours: 22:00 - 24:00
01. THE SEARCH FOR THE SILVERSPEAR, 59'
USA 2015
Directed by Curt Markham
Screenplay: Curt Markham
Animation: Curt Markham
Technique: Super 8 footage, digital remastering
Music: John Centrone
Production: Curt Markham
Dialogues: Curt Markham (narration in English)
Subtitles: None
From 1987 to 1989, a teenager made an animated feature on Super-8 Kodak film, one frame at a time. This long-lost fantasy epic has now been remastered for its 25th anniversary. When the great hero Silverspear is captured, his apprentice Telamus goes on a quest to rescue him. Accompanied by an elf, a sorceress and a thief, he must journey through treacherous enemy territory, fight fearsome monsters, and test the limits of his courage.
This special screening is kindly offer by Curt Markaham.
Wednesday 13, April 2016, Hours: 22:00 - 24:00
02. BATTLE OF SURABAYA, 99'
Indonesia 2015
Directed by Aryanto Yuniawan
Written (story) by M. Suyanto & Aryanto Yuniawan
Screenplay by Aryanto Yuniawan
Animation: Donny Hadiwidjaja (director)
Technique: 2D Animation
Music: Lakman Chandra, Brama Shandy (additional music), Meka Tri (theme music)
Producers: Heri Soelistio, Aryanto Yuniawan, M. Suyanto (executive producer)
Stars: Reza Rahadian, Keagan Kang, Alistair Hendry
Dialogues: Bahasa Indonesia, English
Subtitles: English
Musa, a thirteen-year-old shoe shiner, with Yumna, undergoes destiny through their adventure of waging war during the war time. Will they manage to bring peace among the troops keeping on fighting for nothing?
This screening is kindly offered by MSV Pictures
---
Gallery:
---
Back