Tributes
PANAGIOTIS RAPPAS - Masterclasses
Updated: 23-02-2019 12:09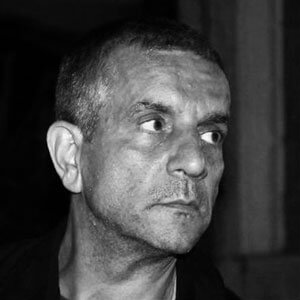 Animator Panagiotis Rappas meets with students of vocational high schools and tells them about his professional career in the field of cartoon art.
Tuesday, 12th of March 2019
Hours: 12:00-14:00
1st High School of Keratsini
Friday, 15th of March 2019
Hours: 10:00-12:00
2nd EPAL of Loutraki
Serafeio, City of Athens
PANAGIOTIS RAPPAS
Panagiotis Rappas was born in the island of Hydra, Greece. He studied Painting, Engraving and Animation in Germany. In 1985 he began working in the animation industry, in Berlin and Munich getting experience in all aspects on the production process of an animated feature film. In 1989 when Steven Spielberg opened AMBLIN-Universal animation studio in London, he was one of the first-recruited artists.
The same time he continues to work as a freelance animation director in various animated projects and television commercials in London's West End.
In 1995 he co-founded Stardust Pictures Ltd and acted as Producer and Creative Director of the projects undertaken by the company such as the acclaimed "1001 Nights" for the Los Angeles Philharmonic and the Oscar nominated animation short "The Periwig Maker".
Between 1998 and 2000 he moved to the United States to provide Storyboard, Layout Supervision and Sequence Direction on various projects for Paramount/Nickelodeon.
His animated children films won international recognition and many awards around the globe.
Next to his animation work he did Stage Design for many Theatre plays and Illustrations for Children Books.
Panagiotis Rappas is a voting member of the Academy of Motion Pictures Arts and Science.
Awards
Little Emily / USA 2016 
Kidscreen Awards 2016: Best preschool e-book of the Year
The Fountain of Youth / Greece 2011
7th Athens AnimFest 2012 / Greece: Best Animation
14th Patras International Film Festival 2012 / Greece: Best Animation
35th International Short Film Festival in Drama / Greece: Special mention
Rozafa Anifest Awards 2012, Shkoder / Albania: Special Prize
The Boy and The Tree / Greece 2009
4th Athens AnimFest 2009 / Greece: Best Animation
Voted by the EUROPEAN BROADCASTERS UNION (EBU) / Geneva: Second Best TV Production in Europe for Children and Juniors 2009
12th Patras International Film Festival 2009 / Greece: Best Animation
4th Documentary Film festival of Chalkis / Greece: Special Jury Award 
The Little Mouse who Wanted to Touch a Star / Greece 2007
Martha's Vineyard / USA: Best in fest
Cyprus International Film Festival / Cyprus: Best Animation
London Greek Film Festival / UK: Best Animation
Athens AnimFest 2008 / GREECE: Special Prize of the Jury  
Patras International Film Festival Greece: Best Animation
Filmography
Frankenstein REC (2019) Post Production and Vfx Supervisor (Live action)
Pete the Cat (2017) Animator
Dragon Rider (2017) 3D Layout Artist
Love, Love, Love (2016) Post Production and Vfx Supervisor (Live action)
Little Emily (2015) (animated app) Art Director / Animator (awarded)
Tale of Sasquatch (2015) (animated app) Art Director/Animator
The Amazing Popcorn (2014) (animated app) Art Director/Animator
Family Guy (2011) (TV Series) Animator
The Fountain of Youth aka "I Pigi tis Niotis" (2011) Director / Producer (awarded short)
The Boy and the Tree (2009) Director / Producer (awarded short)
The meaning of Life (2009) Producer
The Little Mouse who Wanted to Touch a Star (2007) Director / Producer
Jester Till (2003) Studio Producer (Time Lapse Pictures)
Rugrats go Wild (2003) Storyboard Artist/Layout Supervisor/Studio Producer
El Sid: The Legend (2003) Studio Producer (Time Lapse Pictures)
Eight Crazy Nights (2002) Studio Producer (Time Lapse Pictures)
Rugrats in Paris: The Movie (2000) Sequence Director / Layout Supervisor
The Periwig-Maker (1999) Mural painter / Leica editor (Oscar nominated short)
Käpt'n Blaubär-Der Film (1999) Storyboard Artist
Pippi Longstocking (1998) Layout Artist
The Rugrats Movie (1998) Layout Supervisor / Storyboard Artist
Fern Gully 2: The Magical Rescue 1998 Storyboard Artist / Layout Artist
1001 Nights (1998) Producer/ layout Artist/Animator (awarded short)
Die furchtlosen Vier (1997) Animator
Kleines Arschloch (1997) Animator / Studio Producer (Stardust Pictures)
Space Jam (1996) Animator / Vfx Animator
Pinocchio (1995) (CD-ROM game) Animator
All Dogs Go to Heaven 2 (1996) Animator / Layout Artist
Felidae (1994) Animator
Asterix Conquers America (1994) Layout Artist
We're Back! A Dinosaur's Story (1993) Layout Artist
An American Tale: Fievel Goes West (1991) Layout Artist
The Magic Voyage (1992) Character Animator - Vfx Animator
Stowaways on the Ark (1988) Head of assistant animators           
External links
WEB: http://www.rappaspanagiotis.com
IMDb: http://www.imdb.com/name/nm1110632/
YouTube: https://www.youtube.com/user/RAPPASfilms
Linkedin: https://www.linkedin.com/in/panagiotis-rappas-4b020723/?ppe=1
Behance: https://www.behance.net/rappaspanagiotis
Ever After Tales: http://everaftertales.com/authors/panagiotis-rappas/
Greek Animation: http://www.greekanimation.com/companies/rappas-panagiotis/
Facebook: https://www.facebook.com/panagiotis.rappas
References
Flix: http://flix.gr/articles/festibal-dramas-2012-h-phgh-ths-nioths-toy-panagio.html
Lifo: http://www.lifo.gr/team/u46465/56108
ABL: http://abl.gr/directors/panayiotis-rappas/ 
Culturenow: http://www.culturenow.gr/otan-o-orfeas-dhmioyrgoyse-toy-panagiwth-rappa/
Tovima: http://www.tovima.gr/culture/article/?aid=416696
CNN GR: http://www.cnn.gr/style/politismos/story/14319/to-elliniko-kinoymeno-sxedio-exei-ti-diki-toy-kalosynati-istoria
Zippyframes: http://zippyframes.com/index.php/interviews/what-about-the-oscars-panagiotis-rappas-talks-to-zippy-frames
OPI: http://www.opi.gr/index.php/en/current-affairs/news/9005-05-10-2016-orpheus-creating
Griechische Kulturstiftung: http://hfc-worldwide.org/berlin/tag/panagiotis-rappas/
Popaganda: http://popaganda.gr/apo-tin-idra-os-los-antzeles-mia-anthismeni-fragkosikia-stin-kardia/  
---
Gallery:
---
Back
Javascript must be enabled to continue!