Artists
TSOPTSI RAPHAELLA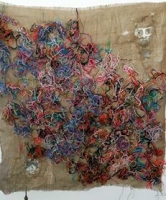 Raphaella Tsoptsi was born in Giannitsa, Greece, in 1993.
She stadies in fourth year at the Athens School of Fine Arts.
Since then she have participated in three exhibitions.
- Cultural Center in Ginnitsa, 2011 (Curator: George Tsakiris)
- Larissa, within the context of a charity event, 2012
- Santorini island, 2013 (Curator: Panos charalabus)
She is interested in performance, video performance, installation and animation movies.
 Title of Installation: EQ (Emotional Intelligence)
Participates in
---
Back