Tributes
Cyprus International Motion Festival
Updated: 07-03-2014 17:42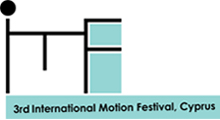 Demetra Englezou holds a Master's degree in Computer Animation from the National Center of Computer Animation at Bournemouth University 2001 and a B.A in Graphic Design from the University of the West of England Bristol in 2000. She has worked in Broadcasting and Satellite Companies since 2004. She has created a large number of animated short films and Motion Graphics and participated in International film festivals, exhibitions and art projects.
As a 3d Animator she has produced 3d television ads for major companies including Vodafone, Cyta, Honda, Hellenic Bank, Bank of Cyprus, Porsche, B.M.W etc. Demetra Englezou has received the first Pancyprian Award for the Logo design competition for the Office of the Cyprus Telecommunication Controller Officer OCECPR 2004.
She is an instructor at the Department of Arts at the European University Cyprus. Her research interests are based on the Motion Graphics & Broadcast Design as well as 3d Computer Animation.
She is the founder and chairperson of the International Motion Festival (IMF), launched in 2012 and the first of its kind in the broader Mediterranean and Middle East.


SCREENING PROGRAM_1
GO WITH THE FLOW
An amazing trip through the meandering paths of the hottest Motion Art passing through Motion Graphics, Music Videos, Commercials, Opening Titles, 3D Mapping, virtual museums and archives, Computer Generated Imagery, Broadcast Design.


1. MY H-EART IS DYING, 43''
Country: Indonesia
Directed by: Ahmad Akhyar

A beating heart explodes into a thousand worries, save our earth!


2. ARTIFICIAL PARADISE, INC RESONANCE // DESTRUCTIVE OSCILLATION, 3' 25''
Country: Belgium
Directed by: Jean-Paul Frenay

Artificial Paradise is an experimental film anticipating a future where a major corporation has developed unique software, based on organic virtual reality, which holds all the lost memories of humankind. A user connects to this database of the forgotten…What is he searching for?


3. MONEDERO 8 BIT, 1'
Country:  Argentina
Directed by: Ruben F Stremiz

To show the benefits "Monedero" card provides to its users. Throughout the day, the piece is generated with a look that references 8 Bit games. The main character overcomes different needs within this city, as in a platform game, and has an extra plus each time you use the card wallet.


4. MASS, 5' 58''
Country:  Germany
Directed by: Henning M. Lederer

Mass: a body of coherent matter, usually of indefinite shape and often of considerable size.


5. CLOCKWORK (Movie title sequence), 1' 19''
Country: Greece
Directed by: Nikolas Grigoriou

This is the title sequence for a thriller movie named "Clockwork", where the main character is a murderer and a clockmaker, who always kills his victims on a specific time.


6. RESONANCE // DESTRUCTIVE OSCILLATION, 22''
Country: Belgium
Directed by: Jean-Paul Frenay

Resonance is a collaborative project with over 30 independent visual and audio  designers/studios. The aim was to explore the relationship between geometry and audio in unique ways. Visual artists and Sound Designers were paired up to create a 20 sec piece in HD, for which the artist collaborated with Michael Fakesch. This is a small contribution of the artist to the project: "Destructive  Oscillation Project: Resonance" See: JP Frenay (frenayjp.be) Hear: Michael Fakesch (michaelfakesch.com)


7. NIKE // MERCURIAL VAPOR SUPERFLY III, 1' 05''
Country: Belgium
Directed by: Jean-Paul Frenay

A 3D advertisement for "Nike – Mercurial Vapor Superfly III"


8. CUTOUT FEST 2012 (Open Titles), 2' 10''
Country: Mexico
Directed by: Diego Huacuja T.

The design process in this piece ended in the experimentation lab of BASA. The main idea of the new concept was to represent kind of traditional lines and digital lines.


9. DIGITIZED, 2'
Country: Greece
Directed by: Tony Zagoraios

This film was created for the opening titles of "Digitized 2012" (A digital design conference in
Greece digitized.gr).It was such a pleasure for the people involved finding themselves experimenting and trying new things and styles.
Special thanks of the artist to Konstantinos Penlidis and Demetrios Fakinos.


10. SENTOSA / THE STORY OF THE MERLION, 2' 42''
Country:  Singapore
Directed by: Benjamin Ang
This story tells us about how Singapore was found and how myth of Merlion came up. The Merlion is a mythical creature whose head is a lion and its body of a fish. This project was done in collaboration with Sentosa and Nayang Polytechnic.


11. Ó TV CHANNEL (Director's cut), 45''
Country: Brazil
Directed by: Henrique Neumann

An innovative communication for a new TV channel was the briefing for the creation of
Brazilian O TV broadcast design. From this main sequence, a series of short animations was derived.


12. SOMETHING TAKEN, NOTHING LEFT, 1' 34''
Country: SINGAPORE
Directed by: Choo Chao Quan

Conserve wildlife, conserve the rainforest. In celebration of the International year of forest.


13. WHITE + BLACK = RED, 2' 11''
Country: Switzerland
Directed by: Simone Giampaolo

"White + Black = Red" is a socially positive short animation with a strong antiracism message. The story is about an argument between two opposite characters: one white and one black who, by the end of the film, learn how to respect and love each other.


14. LOJA DE BRINQUEDOS ("TOY STORE"), 30''
Country: Brazil
Directed by: Thomas Ventura

TV advertisement for Unimed Flex Health Plan, which perfectly suits the small business' needs, made entirely in 3D animation.


15. THE FUTURE FORMS OF LIFE, 5' 24''
Country: UK
Directed by: David Lance

'The Future Forms Of Life' is a Story based on Theo Jansen's kinetic sculptures. If we work really hard on our dreams, sooner or later we will reach our goals. But what if one day our dreams go too far?


16. RAMADAN IDENTITY, 2'
Country: Kuwait
Directed by: Vahid Rasouli

Ramadan identity for Alkout channel- Satellite TV from Kuwait.


17. COLLAPSE , 1' 06''
Country: Russia
Directed by: Selftburning

It shows catastrophically rapid construction of the body under the influence of a strange force.


18. RGB, 7''
Country: Iran
Directed by: Sajad Sabour

RGB in 5 Seconds.


19. ECONEWS IDENT, 31''
Country: Greece
Directed by: Anthimos Xenos

Animated intro for an environmental TV show, featuring ecology and environment news.


20. COMMON IS THE SENSE, 3' 41''
Country: Israel
Directed by: Nadav Arbel

The never-ending journey of a man searching in many different dimensions something that is within.


21. GRIND IDENTITY, 2' 19''
Country: Israel
Directed by: Matan Yaniv

Identity for a made up Horror Movie Channel called Grind


22. BEKO, BEHROOZ GHEZEL, 17''
Directed by: Beko Home Applinace Logostation
Country: Iran

Synopsis: TV Ident.


23. PLAN "MASS CONSTRUCTION", 1'
Country:  Switzerland
Directed by: Director's Cut, Kompost

"Mass Construction" is a television  and cinema advertising campaign of the children's development organization Plan International, to celebrate the power of girls and create awareness for the first ever international 'Day of the Girl'. The tag line 'l am a girl, I am the most  powerful force for change on the planet', recognizes that girls are the key to solving world poverty.


24. VOICE OF THE VOICELESS, 44''
Country: Iran
Directed by: Behrooz Ghezel

Gaza war...


25.CUSHELLE "INFATUATION", 30''
Country: Sweden
Directed by: Bernie Roux

A love story between a koala bear and a roll of toilet paper.


26. URBAN HEARTBEAT, 2'
Country: Germany
Directed by: Verena Huber

"Urban Heartbeat" is a love letter to urban living. It is inspired by Hamburg, Germany's second largest city. The film uses Motion Graphics and 3D animation in combination with  standard film techniques. The  storyline is around a girl, recognizing strange vein-like tentacles in the streets; leading her and others to a huge animated heart, the "Urban Heartbeat". Various special places of Hamburg are shown in this movie, which was also the final graduation project of the director.


27. TURKISH AIRLINES "VISITOR", 30''
Country: Sweden
Directed by: Bernie Roux

To reflect the promise of Turkish Airlines, described with the motto "Globally Yours", a civilization living  on the red sphere was created to tell a brief story about how hard and in harmony they all in Turkish Airlines work, in order to please all of our travelers worldwide. Produced by Passion Pictures, the winner of the latest Academy Award in Best Animation Short Film Category


28. DAEWOO REFRIGERATOR, 20''
Country: Iran
Directed by: Behrooz Ghezel, Aria Taheri

Daewoo home appliance.


29. 9 STATES OF AMBLIVALENCE, 1' 30''
Country: Japan
Directed by: QNQ / AUJIK

Psychologist Silvan Tomkins' Affect Theory; in psychoanalysis, an Affect is an emotion or subjectively  experienced feeling.
The nine affects are:
1. Enjoyment/Joy
2. Interest/Excitement
3. Surprise/Startle
4. Anger/Rage
5. Disgust
6. Dissmell
7. Distress/Anguish
8. Fear/Terror
9.  Shame/Humiliation.
They are bound together by different external expressions which also can be seen as a form of communication. This video was commissioned by Japanese TV Station Space Shower as part of their Station ID project 2012.


30. EBBELWEI LIGHT (Lighter trailer 2011) , 33''
Country: Germany
Directed by: Oliver Martinovic & Bjorn Renner

This trailer (http://vimeo.com/ 20768384) is for a film festival in Frankfurt, Germany. It shows the name of the Festival (Lichter = lights) in a very literal way, after the local people have drunk from a special drink.


31. SAINAM (Animated typeface),1' 08''
Country: Thailand
Directed by: Ekawit Lekviriyakul

"Sainam (Animated typeface)" is an art thesis for Visual Communication Design Silpakorn University Major, Faculty of Decorative Arts. This animated typeface uses 6 symbols which most express the nature of Thai waterside  lifestyle. The symbols are floating Kratong, conch, naga, lotus, barge and fishery. "Sainam" consists of Thai and Latin glyphs. (Thai alphabets, Thai numerals, Capital letters, Lowercase letters and Hindu- Arabic Numerals)


32. IMAGINARIUM OF DOCTOR PARNASSUS (Opening Credits), 2' 06''
Country: Spain
Directed by: Despo Potamou

The (unofficial) opening titles of "The Imaginarium of Doctor Parnassus",written and directed by the amazing Terry Gilliam. The movie talks about life, death, imagination, persistence, dreams, love, and family amongst other things. The titles are divided in two parts, the theater (real life) and the mirror (imagination).


33. WTGS - FOX NEWS AT 10, 1' 15''
Country: USA
Directed by: Laura Ferris Norman

This video file is a compilation of the re-branding project for WTGS-FOX Savannah. The concept is to attract a younger demographic with clear, exciting design elements; and to remove the oversaturation of movement from the newscast, in order to present information in a more efficient and effective way.


34. NCB NATURALIS, 1' 30''
Country: Netherlands
Directed by: PlusOne

In 2010 three institutes combined their collections forming NCB Naturalis, the Dutch Centre of excellence for biodiversity studies. All the data obtained from research is currently being digitized as part of the FES- project. In the future, people all over the world will be able to access information that will help the spread of knowledge about diversity among plants and animals.


35. AMSTERDAM DNA, 1' 37''
Country: Netherlands
Directed by: PlusOne

The Amsterdam Museum has opened an entire new department: Amsterdam DNA. The versatile story of the city is presented in seven intriguing films, which shed light on the most  important elements from more than 1000 years of Amsterdam history. The challenge was to bring the masterpieces to life without affecting their identity, or rather, their soul, by making the images three-dimensional. Lifelike sounds and soundtracks that fit the spirit of the age add luster to the scenes.


36. UNA PIEZA MÁS, 4' 04''
Country: Mexico
Directed by: Luis Safa

When love becomes storm, you have to survive.


37. OBEAH, 30''
Country:  Australia
Directed by: Pauline Brilliana

Appiah Obeah; the name given to an ancient black magic practitioner, awoken within Nadia Amar, harassed too many times by regular customer Andre to perform a private dance.


38. INTERJET ARTIBUTOS, 30''
Country: Mexico
Directed by: Gerardo Noriega

Opening for a festival in Chihuahua, Mexico with no budget, no feedback, just a simple petition of 'Can you do it, please?


39. BABYLON TOWERS, 2' 33''
Country: Israel
Directed by: Yair Walden

Short Animation, that presents the shattered dream of living in the city of Tel Aviv (or any big metropolitan city, in that matter).


40. LA PIEL QUE HABITO (Title sequence), 2' 26''
Country: Cyprus
Directed by: Kostas Nikolaides

This video is a part of the dissertation project of the artist, whose subject was the opening titles' sequence of the movies.  It is about the opening titles' sequence of Petro Almadovar's: "La piel que habito".


41. PUBLIC SERVICE ANNOUNCEMENT FOR HUNGER | Second Harvest, 20''
Country: USA
Directed by: Laura Ferris Norman

This motion graphic is a PSA that is meant to bring awareness to the growing hunger statistics in the Southeast United States. This work was created on a pro-bono basis for Second Harvest (in connection with Feeding America).


42. DON'T AFRAID OF THE DARK, 1' 05''
Country:  Germany
Directed by: Denis Parchow

Teddy bears are our last line of defense.


SCREENING PROGRAM_ 2
ANIMESH 2
A maximum selection of 3D animation in a magnitude of styles, realistic and non- , that feature young blood from the best schools of animation and awarded films, all revealing an absolute sense of perfection in natural movement and spot on use of latest technologies in an effort to achieve the desired effect


1. CUT OFF, 6' 10''
Country: France
Directed by: Simon Chansard, Lucas Dworianyn, Hollie Gach, Duc Duy Nguyen, Victor Pillet

ARI has to spend a day over at his grandmother's, who lives deep in the bayous. Ari, vain as he is, is led by his pride to venture into the depths of bayou. Ari goes home humbled from his short stay; even his grandmother seems to have learned a thing or two.


2. SOLUS, 7' 34''
Country: France
Directed by: Robin Bersot, Camille Dellerie, Mickael Larue, Thomas Rodriguez

Carl is a man in his fifties trying to have a normal situation with his friend Eddy. A day he finds Sam, unconscious. When Sam wakes up, he will question Carl's way of life. A meeting that cannot be a coincidence.


3. JIM'S TIE, 8' 11''
Country: France
Directed by: Thomas Digiacomi, Nicolas Millot, Jérémy Sanchez - Romero, Alain Thay, Leïda Vincent.

A necktie peddler, Jim, rings a man's door and surprises him in the middle of committing suicide. Jim will then attempt to restore motivation and interest in life to jack through his seller's arguments.


4. EMBARQUE, 6' 10''
Country: France
Directed by: Anthony Durand, Alexandre Laroche, Adrien Montier, Maryline Peyrichoux, Léa Vera.

Toro Charon, the lonesome and silent ferryman of hell, has his daily routine, teared apart by the most annoying passenger his boat never carried, and whom will make him lose his legendary temper.


5. DUM SPIRO, 6' 19''
Country: France
Directed by: Boris Cailly, Brieuc Guenole, Jean-Baptiste Hardion, Thomas Lemoine, Sébastien Wackowiez

During a campaign, a roman runner is sent to the German camp to deliver a message before the battle. But he will have to cross an old bear's territory.


6. REBELOTE, 8' 37''
Country: France
Directed by: Paul-Jules Alchie, Cyril Coste, Chritofer Henri, Franck Pagnon, Gaëtan Simonot

In order to kill some decades of long disagreement, three old super heroes and their nemesis are about to pass on their legacy to their offspring. Will the valiant ULTIMAN and the fearsome TENEBRA be up to the challenge?

Official website: http://www.motionfestivalcyprus.com

---
Back