Tributes
ANGELOS ROUVAS: 70 YEARS OF GREEK ANIMATION
Updated: 11-03-2015 19:46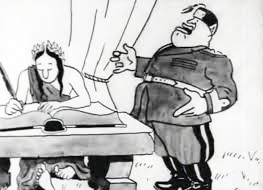 A web portal under the title "Greek animation-70 Years Anniversary", exclusively dedicated to the creations of the Greek animation, highlights attainments and achievements, mistakes and weaknesses, leads to conclusions, exploits an anniversary and looks for a vision toward a new dynamic start.
Its creator, the director Mr. Angelos Rouvas makes his own proposals for the Greek animation and its much desired course towards the world market.
Angelos Rouvas
Film director, screenwriter concept artist, Angelos Rouvas is one of the pioneers in the creation of animation films in Greece.
Born in Egypt to Greek parents and graduated from the National Polytechnics School, Architect-Engineering department in Athens.
He has participated as an animator in a full length feature "An American Tail - Fievel Goes West", produced by Steven Spielber and Universal Pictures.
He created all the main characters for the first Greek animation series of 13 half-hour episodes, "Pandora & Plato - The Strawberry Birds", he organized the production and co-directed the first two episodes.
He collaborated with production company "Magikon" in a series of small scale productions and commercials, using the new technology in character animation.
He co-directed the Greek half-hour TV special in 3D animation, "The Little Mouse who Wanted to Touch a Star", by Time Lapse Pictures, which won five awards in Greek and international festivals.
He is also the founder of the new web portal "Greek Animation-70 Years Anniversary: 1945-2015" (GREEK ANIMATION) the first detailed internet database of Greek animation.
Publication: "Greek Cinema 1905-2005, History, Filmography, Biographies" (Ellinika Grammata).
-------------
DUCE NARRATES, 3' 35''
Direction / Script: Stamatis Polenakis
Animation: Stamatis Polenakis
Technique: Papier de coupe
Music Adaptation & Conductors: A. Pongi and M. Portokali
Production Year: 1945
An anti-fascist film by Stamatis Polenakis in collaboration with Prodromos Merevidis and Panagiotis Papadoukas.
Duce narrates his doings but the reality as it appears on the screen, belies him.
It is the first Greek cartoon using the papier de coupe technique.
Polenakis drew the cartoons on the island of Siphnos in 1942, during the Italian occupation, which he animated in 1945.
At the Opening Titles of the movie is noted the below:
This short animated movie in style of "Mickey-Mouse" is the first of its kind that produced in Greece.
Therefore we request by the Audience to judge leniency our attempt it.
Participating artists
---
Back